Parsley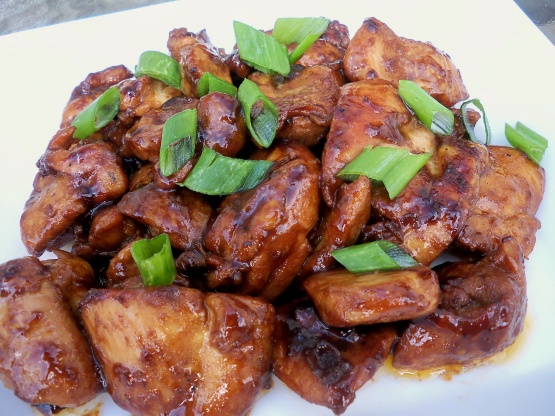 I never was convinced there was bourbon in bourbon chicken. I set up a lab experiment in my little kitchen, sample box of mall bourbon chicken, and my own ingredients, all ready for a Food Network style Throwdown, (without Bobby Flay). I already had a general plan for what I thought might be in Bourbon Chicken, and then I went to work, chopping, mixing, cooking, tasting, tasting, tasting, and I feel confident I got this done. Side by side taste tests get a thumbs up for my recipe. Note: I used some low calorie ingredients in mine, and if you choose to use full calorie options, be careful not to burn or over sweeten your sauce. You can get ketjap manis in oriental grocery stores. Don't substitute regular soy sauce for it- the flavor and texture is totally different. Or you could try making Ketjap Manis, reduced to the thickness of honey. I think the ketjap manis I used must have given it the reddish color, although I hadn't noticed that using it before. Maybe it was the cherry coke? The color won't really matter so don't worry about it.

Mine turned out a beautiful brown color also, I meant to take pictures - I made it a few weeks ago tho so that will have to wait until next time. Don't skip the browning or you won't get that nice seal to allow the chicken to get sticky rather then stringy. I used the ketjap manis recipe, cherry coke and regular brown sugar, I added some extra cherry pepsi for some reason while cooking and for that reason it took longer to cook. I used half the ginger because a lot went into the soy sauce recipe and I'm trying to ease the family into it. the liquid smoke is essential, I wouldn't try and skip it. This was so good that I ended up hiding the leftovers for myself.
Mix ingredients for sauce in a small bowl.
Saute chicken in butter in a large skillet, until nicely browned, being careful not to burn the butter.
Add the sauce and stir, bringing to a boil.
Reduce heat and cook, stirring, 20-25 minutes or until sauce has thickened and chicken is cooked through.