Bourbon Brown Sugar Pound Cake
chia2160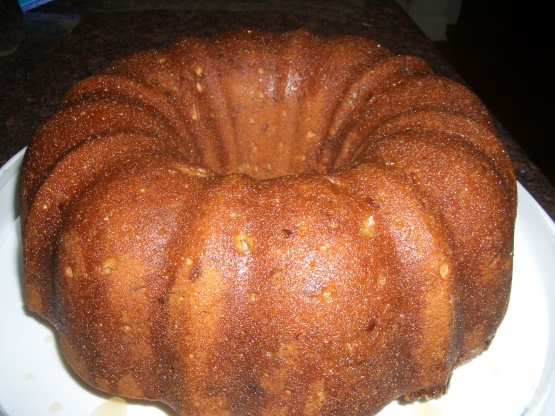 i think i got this from fine cooking, but i'm not sure as i copied so many magazine recipes to try during this slow week at the office. in any event, with a few adaptions, this was delicious and quite easy to make using my kitchenaid mixer.

Wonderful recipe, I did cut back brown sugar by 1/3 cup then added 1/3 cup granulated sugar, increased but on to 1/2 cup, used 3-3x6 aluminum loaf pans , buttered and flowered, the flexibility of the pans made them easy to remove, 2 were gone in less then 24 hours, froze the third loaf. George myrtle beach sc
preheat oven to 350.
in a large bowl mix flour, baking powder and sida and salt.
butter and flour a 12 cup bundt pan.
in a stand mixer add butter and whip for 2-3 minutes.
add sugar and mix 3 minutes more.
add eggs one at a time, scraping down bowl a few times.
add vanilla and mix until combined.
mix buttermilk and bourbon.
alternately add flour mix and buttermilk mix, starting and ending with flour.
add nuts and stir in well.
pour mixture into bundt pan and bake for 70 minutes until cooked.
cool in pan 15 minutes.
meanwhile make the glaze, heat bourbon and sugar together in micro for 1 minute or on stovetop to simmer, brush over warm cake.