Julesong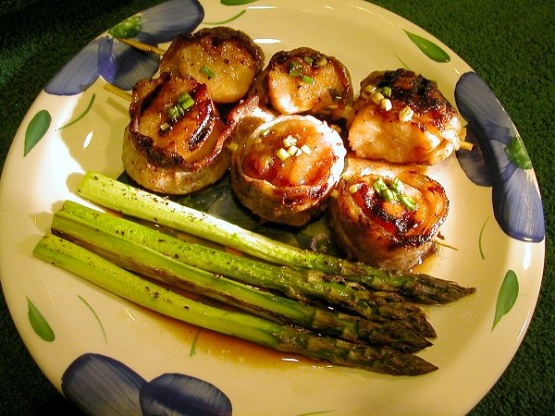 A marinade of bourbon and maple syrup gives these scallops a slightly sweet flavor that contrasts nicely with the smoky bacon. Serve them over rice with a side of snow peas and/or broccoli. Adapted from Cooking Light.

I am so happy I found this recipe for scallops, OMG - delicious! It's different enough to be a dinner party worthy, and easy enough for a weeknight. I did have to change the procedure a little, but did use all the ingredients, but instead of skewering the bacon wrapped scallops (cuz I was out of wooden skewers), here's what I did: I cut the bacon into bite-sized pieces, and cooked in a large frying pan, til crispy and set aside. I then poured out most of the bacon fat, and then heated the pan to high, and cooked the scallops til they were golden on each side and just barely cooked inside. I then added the bacon to the pan, and the marinade that was left over. Heated it all through for about 2 minutes to finish cooking the scallops. Served over steamed green beans - awesome!!!
Heat a skillet over high temperature and sauté the bacon for 4-5 minutes, until limp and partially browned; remove from skillet, drain, and set aside to cool.
In a bowl, combine the green onions, bourbon, maple syrup, soy sauce, mustard, and pepper, and stir well; remove about 2 tablespoons of marinade to another container and set aside.
Add the sea scallops to the marinade in the bowl and toss gently to coat.
Cover and place in refrigerator to marinate for 1 hour, stirring occasionally.
Preheat your oven broiler; pan spray a broiler pan.
Cut the partially cooked bacon strips into 4 sections apiece.
Remove the scallops from the marinade (reserve marinade) and wrap a piece of cut bacon around each scallop - if the scallops are very large, they might only reach halfway around.
Thread the wrapped scallops onto the skewers (going through each end of bacon strips if they only reach halfway around), making sure to leave space between each scallop so that the bacon will cook well.
Place the completed skewers on the pan-sprayed boiler pan and broil for 8 minutes or until the bacon is crisp and the scallops are opaque, occasionally basting with the marinade used with the scallops (how long they need to cook depends on the size of the scallops).
Remove skewers from broiler, place them on a serving platter, and brush or drizzle with the reserved marinade (that which was not combined with the scallops in the refrigerator).
Note: these can also be cooked on the grill if you watch them carefully so that the scallops do not overcook.