Boulettes Francaise (Meatballs in White Sauce)
Annacia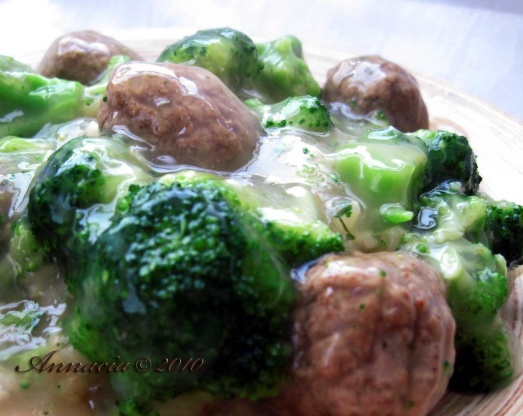 I was looking for a recipe my mother used to make as she doesn't remember the recipe (she never wrote everyday recipes down). I found this one online and it is just as good as Mom's but I'm not going to tell her that. This was written in the recipe description and it is so true. "This is an old recipe which was made in most Canadian homes. Every housewife had her own particular way of preparing this recipe. It was a dish that pleased the family and one that is recalled with fondness"

I think I skimped too much on the flour as mine wasn't really white but a hazy white. That said, this tastes great and it's sure simple to do. I put the cooking liquid through a fine strainer to remove the meat residue and added frozen broccoli before thickening to make it a full meal. The meat balls are very tasty and tender. I really think that the kids will go for this, meat balls are always fun and it has no really sharp flavors. I put it over brown rice and we enjoyed dinner in he living room with a movie. Made for Photo Tag
Mix meat and seasonings.
Shape into 1 inch meatballs.
Put enough water in saucepan to cover meatballs.
Bring to a boil.
Add whole onion and garlic cloves.
Add 1 meatball at a time so water does not stop boiling.
Cook until meat is white - about 30 minutes. Remove onion. Thicken water with flour and add more salt and pepper as needed. Serve over rice or noodles or by itself. Enjoy.