Bev I Am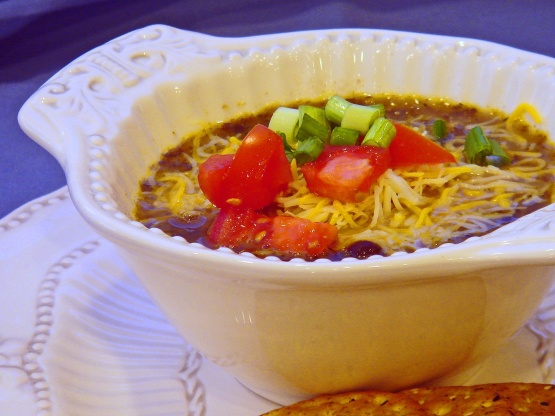 From Best of the Best from America Cookbook by Gwen McKee & Barbara Moseley, c. 2005.

Wonderfully simple to prepare and oh, so tasty! Black bean soup is a favorite and this recipe hits the spot! I prepared as directed, changing nothing. I served with chopped tomatoes, sliced green onion and a sprinkling of a Mexican Blend Cheese. Thank you, NELady! UPDATED: I sometimes combine 2 cups of shredded roast pork to the soup which makes a fantastic addition.
Heat oil in large saucepan over medium heat. Saute onion and garlic until tender (about 5 minutes). Stir in oregano, thyme, cumin, and pepper; cook one minute longer. Place half of beans in a blender and puree until smooth, adding chicken broth as needed to make a smooth puree. Add puree and remaning whole beans and broth to saucepan. Bring to a boil over medium heat, then simmer uncovered for 20-30 minutes. Serve garnished with diced tomatoes, and if desired, onion and shredded cheese.