AB_Fan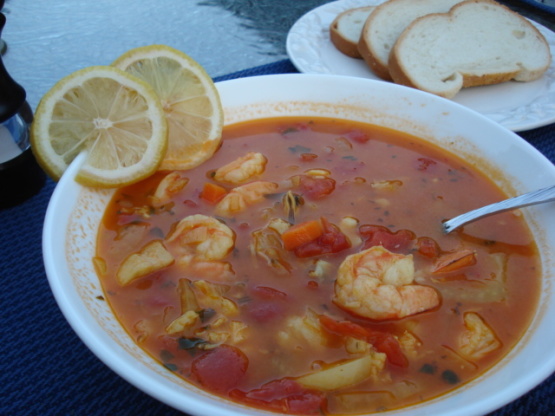 A French seafood stew made of fish, shellfish, onions, tomatoes, white wine, olive oil, garlic, saffron and herbs. You can leave the shrimp and lobster in the shell for more flavor to be added to the stew. If you do make Shrimp Stock (2 Methods) do add the shells from the lobster and crab. I do favor the Alternative method in that recipe. This can be made the day before. All the fish is optional and interchangeable.

Top Review by PatMe
Fantastic flavor. I used vegetable stock as I do not like the flavor of chicken broth with fish. Also used fresh Haddock. Will definitely be making this again!! Thanks for a great recipe - next time I will try making with Shrimp Stock (I've been saving up shrimp and lobster shells in the freezer)
Second review: Okay - so I FINALLY got around to making this delicious soup again AND I made the shrimp stock recipe referred to (#147961). WOW - I thought the soup was good all the other times I've made it (with a variety of fish) but using the homemade stock recipe put this over the top!! Nice part is, the stock recipe makes SO much I have plenty left over (now in the freezer) to use again.
Thanks so much Rita for two great recipes that I have used over and over again with fantastic results.
Add saffron to sherry set aside.
Cut fish into bite size pieces.
Scrub clams and mussels.
In a large stock pot heat oil. Saute onions, shallots, carrot, fennel, and garlic in oil on low heat until lightly golden.
Add all liquids and seasonings including the saffron infused sherry.
Bring to just a boil. Lower heat and simmer 15 minutes. Add all seafood adding squid last, mix and simmer 10 minutes.
Serve hot in large bowls.
Top with garnishes.
Serve with crusty bread, and a tossed salad.