Boston Sausage Grinder (Or Submarine Sandwich)
DeniseBC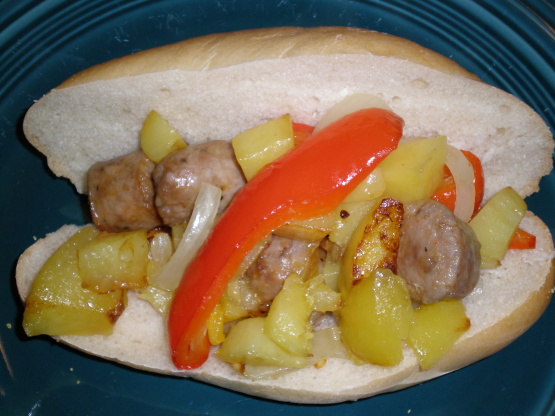 Tasty, filling, and easy!!! Great football fare for those hungry boys (and girls)! Increase ingredient amounts for those Sunday afternoon crowds...just put out the sausage mixture and let everyone make their own grinders. Use a disposable roasting pan for easy clean-up.
This was pretty tasty although DH was a bit unsure about putting potatoes into a bun, so he ate his separately. I have to say I liked it in the bun! I made it as written except using all sweet Italian sausage, yukon gold pototoes, and a red and yellow pepper as that is what I had on hand. I'd definitely recommend using 1/2 hot Italian and 1/2 sweet Italian because I think it would add to the flavor. I will probably increase the amount of sausage to 1.5 lbs total next time. I may also try to add a bit of seasoned salt to the potatoes next time just to spice it up a bit. I was a bit worried because my potatoes weren't soft when they should have been per the recipe, but I just plowed on and added the other ingredients. Everything was done by the end of that 30 minute mark. This was a perfect recipe for a day that I was at home, but didn't have time to fuss over a meal. We'll definitely have this again! Thanks for sharing Alan!
1⁄2 lb link hot Italian sausage
1⁄2 lb link sweet Italian sausage

1

tablespoon olive oil
1 1⁄2 lbs baking potatoes, peeled, cut into 1-inch pieces, and patted dry

1

large green bell pepper, cored, seeded, and cut into 1/2-inch-wide strips

1

large red sweet bell pepper, cored, seeded, and cut into 1/2-inch-wide strips

1

large yellow onion, cut in half and thinly sliced crosswise

2

garlic cloves, coarsely chopped

1

large Italian bread or 6 hoagie rolls
Preheat oven to 400 degrees.
Place sausages in roasting pan; rub sausages with oil. Roast 15 minutes. Remove sausages from oven and when they are cool enough to handle, cut into bite-size chunks, 3/4 to 1 inch. Return sausage to roasting pan. Add potatoes.
Lower oven heat to 350 degrees. Return pan to oven and roast about 15 minutes, stirring occasionally, until potatoes are tender and sausages are cooked.
Add peppers, onion, and garlic to the roasting pan. Roast about 30 minutes, until vegetables are tender.
Cut loaf of Italian bread in half horizontally. Cut crosswise into sixths, for a total of 12 pieces, or 6 sandwiches (or cut 6 hoagie rolls halfway through). Place equal amounts of sausage mixture into each sandwich. Serve hot.