NIN4NIN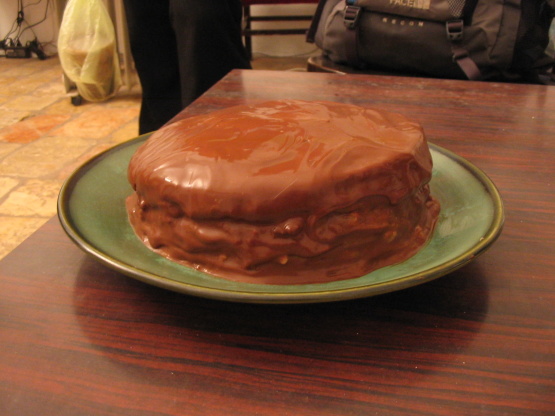 Recipe was adaped from a recipe printed in the newspaper. I added some short cuts for making this desert. Prep time does not include cooling time (30-45 minutes) for custard filling and cake.

My husband and I loved this pie! The filling was nice and creamy and rich. I followed the instructions exactly. I had no problem with the cake falling apart,for which I am thankful. My husband says to thank you!
To make cake (if you want to buy a pre-made a 9-inch yellow round cake, you can omit steps 1-6) Preheat oven to 375-degrees F.
Grease and flour a 9-inch round cake pan.
Mix all ingredients (flour-eggs) at low speed until combined, then mix at high speed for 2 minutes at high speed.
Pour in pan.
Bake for 25 minutes or until done.
Cool on rack for at 10 minutes before removing from pan.
Let cool while making custard filling and chocolate glaze.
To make filling: Stir all filling ingredients except vanilla (milk-egg yolks) in a 2-quart saucepan over medium-low heat.
Cook until filling thickens and boils (20 minutes).
Boil one minute then stir in vanilla.
Remove from heat.
Refrigerate 30 minutes--cool but not completely set.
Make glaze while filling is cooling.
To make glaze: Melt chocolate and butter over low heat (or heat in microvave).
Remove from heat.
Beat in sugar an milk with whisk until smooth.
To assemble cake: Split cut in half horizontally (you now have two thin 9-inch layers).
Place one layer cut side up on plate.
Cover with custard filling.
Place second layer (cut side down) over filling.
Coat top of cake with chocolate glaze.