Boston Cream Cupcakes with Chocolate Ganache Frosting
CIndytc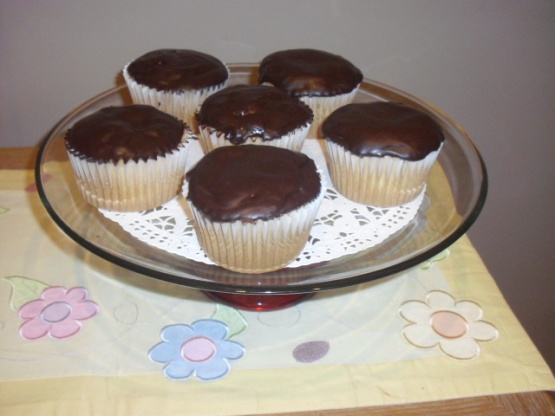 Oh, my God, these are so fabulous, rich--and HUGE!! My father-in-law baked these for my mother-in-law's birthday and, needless to say, we ALL will be subtracting about 5 birthday bashes from our lives! (But one bite is worth it:) **Prep time includes all refrigeration times.**
MAKE THE CUSTARD: In a small bowl, whisk 1/4 cup milk with the cornstarch until smooth.
Add the egg yolks and whisk until blended.
Combine the remaining milk and sugar in a small, heavy saucepan and bring to a boil over medium heat, stirring occasionally.
Remove pan from heat and whisk 1/2 the milk mixture into the yolk mixture.
Return yolk mixture back to the pan and bring to a boil again; boil gently for 1 minute, whisking constantly.
Remove pan from heat and whisk in the butter, vanilla, and salt; transfer filling to a covered container and refrigerate for several hours, until thickened and completely cool.
(It's probably easier to make this one day ahead.) MAKE THE CUPCAKES: Preheat oven to 350*F.
Line 12 jumbo muffin cups with paper liners.
Whisk together the flour, baking powder, and salt; set aside.
Place the sugar in a small bowl; split the vanilla bean lengthwise and scrape out the seeds with a small paring knife into the sugar.
Mix with a fork to distribute the seeds evenly throughout the sugar; set aside.
Using an electric mixer on medium-high speed, cream together the butter and sugar mixture for 5 minutes, until light and fluffy.
Add the egg yolks 2 at a time, beating well after each addition, and scraping bowl occasionally.
Reduce mixer speed to low and add the flour mixture in 3 additions, alternating with the milk in 2 additions; blend until smooth.
Reserve a scant 2 cups batter; spoon remaining batter into the prepared muffin tins.
Center about 2 Tbsp.
custard filling over the batter in each cup; completely cover with reserved batter.
Bake cupcakes for 22-24 minutes, in 2 batches, or until the tops are golden brown and set.
Cool for 10 minutes in the tins on wire racks; carefully remove cakes and cool completely.
MAKE THE GANACHE: Bring the heavy cream to a boil in a small, heavy saucepan over medium heat.
Remove pan from heat and add the chocolate, swirling the pan so that the cream covers the chocolate.
Let stand for 3 minutes, to melt the chocolate; whisk gently until smooth, making sure to incorporate as little air as possible into the mixture.
Set aside to cool to room temperature.
Spread an even layer of ganache (about 2 Tbsp.) over each cupcake; refrigerate for 40 minutes to set the frosting.
Serve at room temperature.