Boston Bluefish & Faux Taters/Cauliflower.
SEvans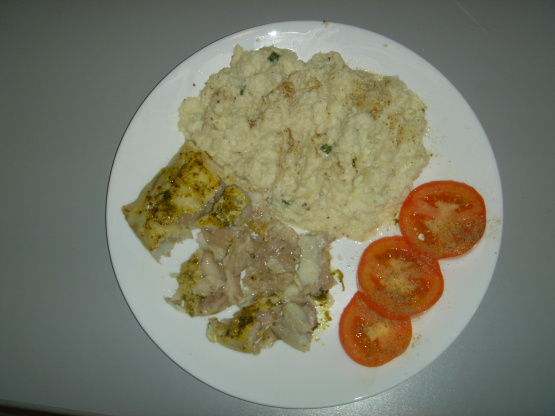 Very easy - dinner in less than an hour - SUPER low carb (0g carbs in the fish) - yet FULL of flavour. This is a dinner for 2
FISH.
Preheat oven according to package.
spread butter evenly over FROZEN blue fish.
evenly pour lemon over butter.
sprinkle with lemon pepper (I like lots).
evenly sprinkle cut up dill over lemon pepper.
bake uncovered for 35 mins (or according to package). The butter and lemon juice penetrate the fish while cooking taking all the seasonings with it - don't skip the buttering the fish stage - it IS necessary.
FAUX TATERS.
bring your cauliflower to a boil and continue to boil for 10 - 15 mins (the softer the better).
Drain ALL water off.
mash together with your cream cheese salt and pepper.
mix in your cut up green onion at the end for extra zip of flavour and color.
Serve with another veg on the side - or as is.