Sidd9260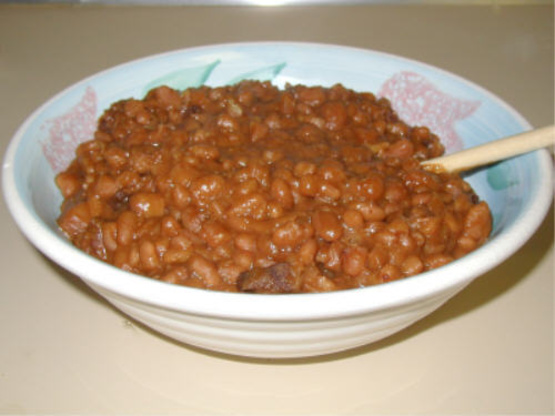 The beans can be made ahead. After cooking, cool them to room temp and refrigerate in an airtight container for up to 4 days. Note: It is NOT NECESSARY to soak the beans before using in this recipe; hence the long cooking time. Do not use old dried beans for this recipe.

Excellent beans that were a breeze to make. I did make 2 changes - one out of necessity, the outher out of personal preference. I can't find salt pork in Greece so I used a hunk of a lightly-cured bacon. I also like my beans 'red' so I did add a scant tablespoonful of tomato paste to the water mixture, before baking. We enjoyed these on the day I made them as a topping of hot dogs with slaw, and on the following day for breakfast, as part of the 'full English'. With a recipe like this it really is so easy to make your own, from scratch, baked beans. Why would you ever want to buy canned again?
Adjust oven rack to lower-middle position; heat oven to 300 degrees.
Add salt pork and bacon to 8-quart Dutch oven; cook over medium heat, stirring occasionally, until lightly browned and most fat is rendered, about 7 minutes.
Add onion and continue to cook stirring occasionally, until onion is softened, about 8 minutes.
Add 1/2 cup molasses, mustard, beans, 1 1/4 teaspoons salt, and 9 cups water; increase heat to medium-high and bring to boil; cover pot and set in oven.
Bake until beans are tender, about 4 hours, stirring once after 2 hours.
Remove lid and continue to bake until liquid has thickened to syrupy consistency, 1 to 1 1/2 hours longer.
Remove beans from oven; stir in remaining tablespoon of molasses, vinegar, and additional salt and pepper to taste.