Pamela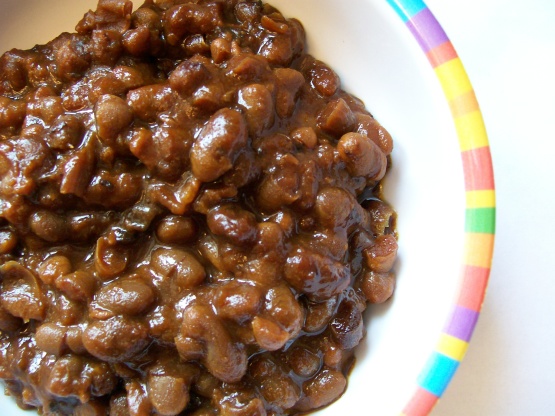 This is another recipe passed down from my mom. We often make this for large get togethers or BBQs. When we have guests for over for a BBQ, we are often asked - IS THERE BEANS? It is always a hit.

Loved these beans. I used 1 cup navy beans and 1 cup lima beans, this gave a nice change of pace for baked beans. I also used diced ham instead of the bacon. And, I doubled up on the sauce ingredients. I have made these 3 times now and I find that I needed more cooking time than the 8 hours. It really depends on what you think "add water to cover" means. I wound up cooking the beans with the lid off the crockpot to get the beans to the right consistancy
Soak beans in water overnight.
Mix together all ingredients in slow cooker.
Add water to cover.
Check frequently.
Cook on high for about 8 hours.