Boscoe T. P. McGillicutty's Sausage Gravy
fido1949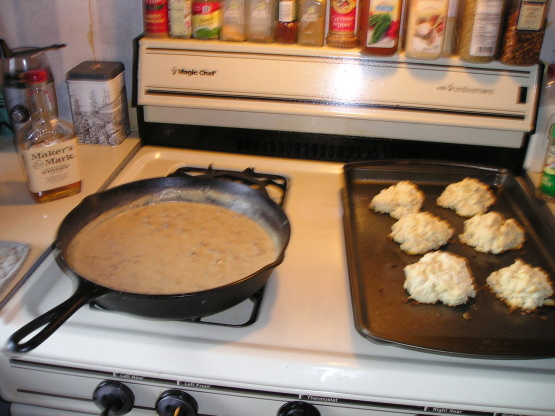 Totally indulgent comfort food to warm up the frostiest of mornings.
Fry sausage over medium-high heat in heavy pan (cast iron preferred) until browned, breaking the sausage into small bits with a spoon or spatula.
Add flour 1 tbs at a time, stirring until well incorporated.
Add milk gradually, while whisking, until thickened and bubbly.
Add butter, bourbon, red pepper flakes, Allspice and Worcestershire sauce, season to taste with freshly ground black pepper and Kosher salt (we don't add any additional salt) and stir 2 minutes.
Serve over hot out of the oven biscuits (we prefer the copy-cat Red Lobster cheddar biscuits) and sprinkled with hot sauce for a taste of pure Heaven I gar-aun-tee!