Prep 15 mins
Cook 40 mins

I've had this recipe written down for ever...it's out of an old low carb cookbook...hubby and I love it...this would be requested every time it was my turn to bring in "Friday Breakfast" at work...hope you enjoy!
Directions
Preheat the oven to 350°F.
Have ready a buttered 8-inch quiche pan.
Beat the eggs in a bowl with cream, hot pepper sauce, salt and pepper.
Mix in the remaining ingredients and pour into the quiche pan.
Bake 40 minutes, or until golden brown on top.
Serve hot, warm, or at room temperature.
Reviews
Most Helpful
Being on a low-carb diet, I was really anxious to try this recipe. I found the Muenster cheese unusual for a Southwestern recipe, but it was a nice change of pace. This is a good make-ahead recipe that reheats well. I was able to have this all week for breakfast! Thanks for sharing.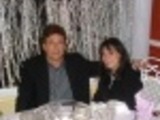 We really enjoyed this quiche; especially the fact that it doesn't need a crust (trying to reduce gluten in our diet). The quiche turned out perfectly and it really makes a great presentation dish. Made as directed using all ingredients listed; however, I do think it could use some additional spices to bring out the flavor more. Perhaps some additional Mexican spices would be a good idea. Will definitely make this dish again. Made for PRMR, March, 2014.