breezermom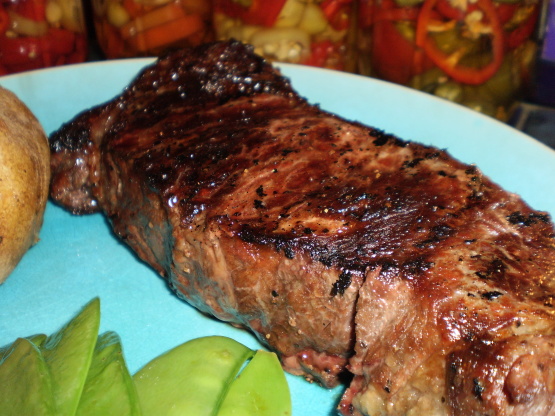 I used to use this recipe in the gastro pub I ran, it used to sell like hot cakes! Use a good quality steak-it makes a difference. I also do this as kebabs if I'm serving it at a large gathering, it works a treat. This is perfect on the barbecue, but equally good just grilled or griddled inside.

I marinated a boneless ribeye for 4 hours, flipping every hour to make sure the seasoning was distributed evenly. I didn't think this was too sweet....it just seemed that something was missing. I absolutely love steaks, and grill every chance I can. Maybe it is a regional thing, but this recipe just didn't make me say wow! So sorry.
Make a few cuts into the edge of the fat on each steak-it stops the meat curling up as it cooks.
Place the meat in a shallow, on metallic dish. Mix together the remaining ingredients, stirring until the sugar dissolves. Pour mixture over steaks, cover and marinate for at least 2 hours.
Barbecue meat until cooked to your liking.