MeikaD88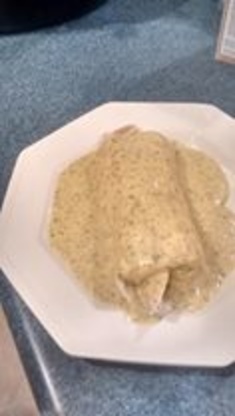 I have been trying to replicate "Chuy's Boom Boom Sauce" for months. I was complaining to a friend that I couldn't get it right. She said, "Chicken. Try cream of chicken soup." That was it! Use more or less serrano and jalapeno peppers according to your desired heat level. The consistency is great for a sauce. If you want to eat it as a dip, use the flour.

I just made this and it was so close to the original!!!! It was so good! I did have to modify it a bit. Chuy's is always a teensy bit too spicy for me, and since I've never cooked with jalapenos before, I was unsure of how spicy they would be. I bought two to use, but got nervous and only used one...I for SURE should have used 2! There wasn't much spice at all to my sauce. The flavor was still there, but that second pepper really would have kicked up the spice a bit. Also, I don't have a blender, just an immersion blender, and while it did the trick, it wasn't as smooth as I imagine an actual blender could have gotten it. But all in all, it was SOO good. As our only Chuy's in my city is about a 30 minute drive for us, this will certainly do in a pinch. Also, this recipe made a ton!! We have plenty for left overs!
Seed and dice peppers, garlic, and cilantro.
Saute peppers and garlic in pot with a splash of chicken stock.
Add soup, cilantro, green chilies, and tomatillos to the pot.
Cook until warm.
Pour into blender and blend until smooth.
Move mixture back to the pot and add cheese.
Cook until cheese melted through.
Serve warm.
For thicker Boom Boom:.
Sift 1-2T flour into blender with sauce.
Blend until smooth.