Booger's Bangin' Oatmeal Cake
Feej3940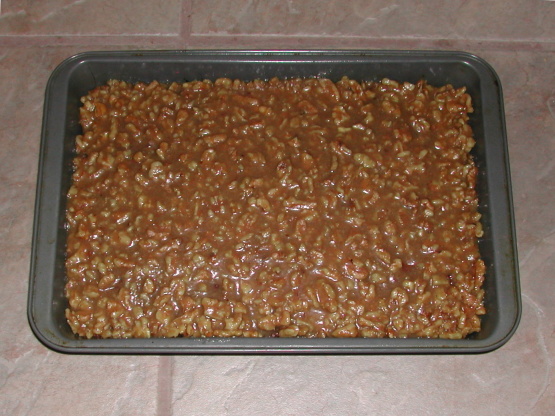 I make this gooey unbelievable cake several times a month. My son-in-law, who I lovingly call "Booger" says it's " bangin' " ! I have had people ask me to make a whole cake just for them after they have tried a piece! Even the batter is delicious!!
Preheat oven to 350 degrees.
Grease and flour 13x9 inch baking pan.
CAKE: In a large bowl,pour boiling water over the oats and let stand for 15 minutes.
*Do not drain water from oats.
In the same bowl, blend in the butter and sugars with the oats.
Add eggs and vanilla.
Beat well.
Add dry ingredients, mix until smooth.
Pour into 13x9 baking pan.
Bake in 350 degree oven for 30 minutes, or until toothpick comes out clean when inserted in center of cake.
TOPPING: Mix topping while cake is in the oven.
Combine melted butter, evaporated milk, brown sugar, vanilla and walnuts in a small bowl.
Pour evenly over cake right when the cake comes out of the oven, while it is still hot!(that part is important!).
Place under broiler in oven until topping is golden brown and bubbly.
Serve warm or cold.