2 cups orange juice
2 cups milk
2 pints Orange sherbet
4 medium ripe bananas
2 cups whipped topping
18 miniature chocolate chips
Directions
In four batches, process the orange juice, milk, sherbet and bananas in a blender until smooth. Pour into glasses. Cut a hole in the corner of a pastry or plastic bag; fill with whipped topping. Pipe a ghost shape on top of each beverage. Position chocolate chips for eyes.
Most Helpful
This was a great treat. I'm pregnant, so while everyone else was drinking vampire wine and cocktails, this was my treat to myself and a great dessert for everyone else. Not too sweet, and the ghosts were cute. We used swirled chocolate chips to give them a "hypno" look.
Such a fun idea! Really easy to make and tastes great. So fun for Halloween!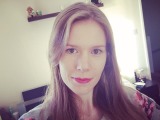 This was so good, loved the tang of the sherbet with the creamy banana, I did take a photo but my ghost looked sick and the photo was blurry so will just have to have another one and try for a better pic so I can post it.