Boneless Pork Chops Milanese
Dugyb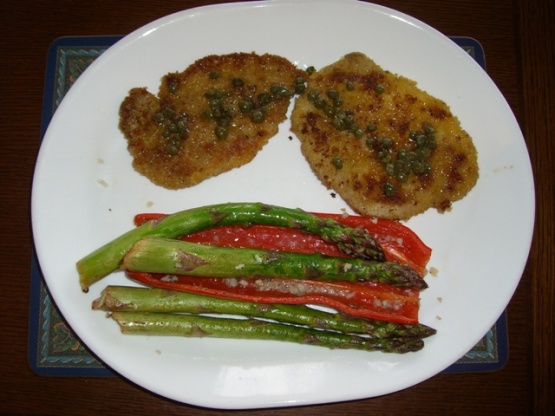 You can put these chops together, cover and refrigerate and cook at dinner time. This is a really quick and delicious recipe courtesy of Giada DeLaurentis.

My husband was never much for pork chops until I discovered this recipe. Now we both can't get enough of them. I added a little butter,lemon juice & capers after the chops were out, then poured over the chops. Absolutely delicious & easy to make. I highly recommend.
Coarsely crush the panko and place in a large shallow bowl.
Stir the cheese into the panko.
Lightly beat the eggs in another large shallow bowl.
Sprinkle the pork generously with salt and pepper.
Dip the pork, 1 piece at a time, in the egg, then dredge the pork in the crumb mixture, patting to coat completely.
Heat 1/4 cup of oil in a heavy large skillet over medium-high heat.
Add the pork to the hot oil and cook until golden brown and just cooked through, about 3 minutes per side.
Transfer to paper towels to drain.
Transfer the pork to plates and serve with lemon wedges.