Boneless Buffalo Wings With Ranch Dressing and Vegetables
IngridH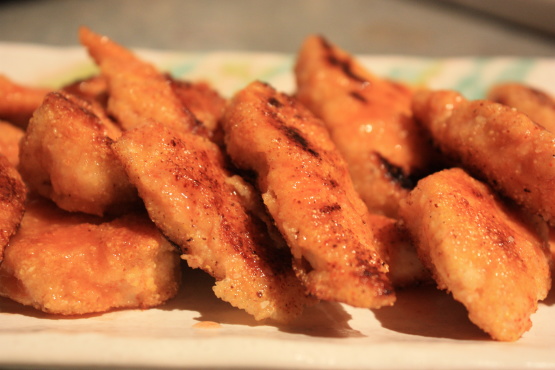 Low fat and sodium, dinner and vegetables in one meal.

Yummy! I love buffalo wings, but really dislike fighting with the bones. This is a wonderful version, with the combination of the marinade and the final drizzle really giving these a kick of both heat and vinegar. I didn't do the veggies and dressing, as I was just too lazy, but a side of bleu cheese dressing would just be perfect with these. A definite make again, either as an appetizer, or as the main event in a lunch box. I just loved these- thanks so much for sharing!
Whisk buttermilk,2 tablespoons hot pepper sauce,and 2 tablespoons vinegar in a bowl until combined.
Add chicken, toss to coat, and transfer to refridgerater and marinate 15 minutes to 1 hour stirring every 15 minutes.
Whisk flour and cornmeal in a shallow dish, whisk the remaining hot sauce, and vinegar in a small bowl.
Remove chicken from marinade, and roll in flour mixture mixture until evenly coated.
Sprinkle both sides of chicken with cayenne pepper.
Heat 1 tablespoon oil in non stick skillet over medium-high heat .
Add half of the chicken placing each in a little oil.
Cook until golden brown, 3-4 minutes per side.
Transfer to a serving platter.
Repeat with 1 tablespoon oil, and chicken.
Drizzle chicken with reserved hot sauce mixture.
Serve with carrots, celery, and blue cheese dip.