Boneless Breast of Chicken Saltimbocca
brchin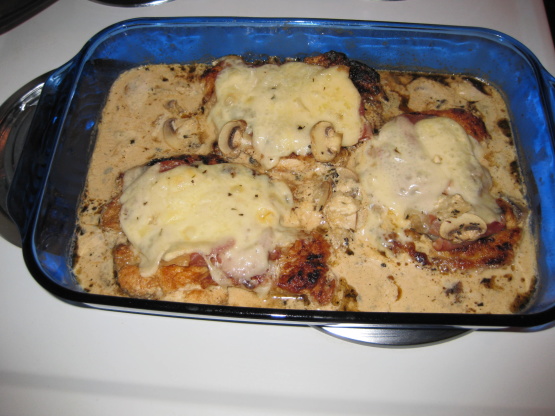 My Mom found this recipe in a Benson and Hedges cookbook, around 20 years ago. It's a little work but, believe me, it's worth it. I always requested her to make this dish on my birthday.

FANTASTIC RECIPE. Use this recipe as a company dinner when you want to wow your guests. I followed recipe exactly using half & half for the cream, and baby portobella mushrooms. I did not clarify the butter...was in a hurry. Because my chicken was rather thick, I baked it in a covered casserole for 20 mins., removed the foil, and baked an additional 10 mins. Perfect!!!I think this recipe would be excellent using deli sliced ham instead of the expensive (and salty) prosciutto. Thanks Judy for sharing this wonderful dinner recipe.
Dip chicken in flour; brown in butter.
Arrange in a butter 13x9x2-inch baking dish.
Top each with 1 slice prosciutto ham and 1/2 slice cheese.
Cook shallots and garlic until soft; add mushrooms, wine, broth and herbs.
Bring to a boil and cook 10 minutes.
Stir into hot mixture 1 T flour and a small amount of sherry.
Stir in remaining sherry and cream; season with salt and pepper.
Pour sauce over chicken.
Bake in a 375° oven for 20 minutes.