This recipe is from the 2009 cookbook, Cool Drinks for Hot Days.
1 large mango, peeled, pitted, diced
1 banana, peeled, sliced
1 cup pineapple juice
2 ounces raspberry flavored syrup
6 ice cubes
Directions
In a blender, put the mango, banana & pineapple juice & process until smooth, then add the ice cubes & blend until smooth.
Drizzle a little raspberry syrup down the inside of 2 tall glasses, then pour in the blended fruit & stir to combine.
Serve immediately.
Reviews
Most Helpful
All the tropical flavors we love! I served this as a breakfast shake with pancakes and your blueberry sauce recipe over top. I didn't has raspberry syrup for this recipe, so I added a few drops of raspberry extract and it worked out great. Thanks for a super delicious treat!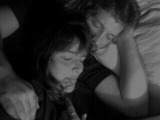 Ahhhhh, this really hit the spot. This great shake has a lovely "tropical" flavor...perfect for breakfast or a great refreshing drink on a hot day. Also I liked it because it was a great way to use my Torani Raspberry Syrup. Thanks sor much for sharing this treat, Sydney Mike.
A yummy shake that made a great quick breakfast. I loved the raspberry syrup in it and the mix of flavors was totally enjoyed! Thanks! Made for Newest Zaar tag.