Peter J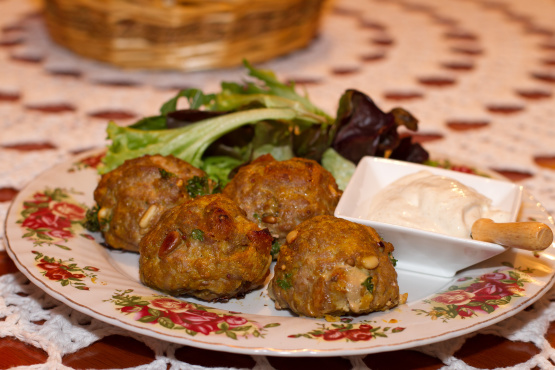 This recipe came from a book called "The Meatball Cookbook Bible", slightly modified to suit our tastes. These different and delicious curry-flavored meatballs are a real treat!

Wonderful blend of flavors and I loved the texture of the pine nuts and apricots. Nice hint of curry without being overpowering and they went beautifully along with the cumin yoghurt and a light salad. The only thing I changed is that my oven puts out a lot of heat from the top that tends to burn at high temperatures, so I cooked at 180C / 350F for 30 minutes which worked out well.
Place the yogurt in a strainer and place it over a medium bowl. Shake a few times, then let sit for 30 minutes. Pour the liquid out of the bowl; put the remaining yogurt into the bowl and set aside.
Mince the garlic. Chop the apricots, parsley, and tomato. Break the bread into small pieces.
Toast the pine nuts in a small skillet over medium heat; remove from the skillet. Add the oil and heat over medium high heat; saute the garlic for several minutes until soft.
Whisk egg and milk in a mixing bowl. Add the bread, apricots, parsley, and curry powder. Mix well.
Add the garlic (with oil), pine nuts, and turkey to the mixing bowl. Season with salt and pepper. Mix well. Shape mixture into 1 1/2 inch balls.
Line a baking sheet with foil and spray with cooking spray. Arrange meatballs on pan and spray tops of meatballs with cooking spray.
Bake at 450 degrees for 12-15 minutes.
Combine the cumin with the yogurt in a small bowl and whisk until combined. Fold in chopped tomato.
Serve the meatballs with the yogurt sauce.