Bombay Sliders With Garlic Curry Sauce
kylakae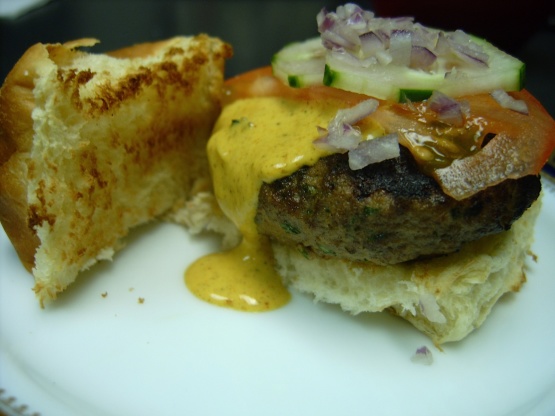 Dinner rolls work well as buns for these mini burgers. Allow three burgers per person and top with tomato, red onion, and cucumber slices. These are great on the BBQ if you have something to keep them from falling through the grill bars.

Great easy meal when you're squeezed for time. Garlic curry sauce is terrific.
Mix the mayonnaise and yogurt together.
Mix 3/4 cup of the mayonnaise and yogurt mix, 2 1/4 teaspoons curry powder, and next 3 ingredients in small bowl for sauce.
Let stand at room temperature while preparing sliders.
Place turkey or chicken, next 6 ingredients, remaining 1/4 cup mayonnaise mix , and 4 teaspoons curry powder in large bowl.
Mix with fork or hands just until blended (do not overmix).
Divide mixture into 12 equal portions.
Using wet hands, form each portion into patty about 1/2 inch thick.
Preheat broiler or heat 1 tablespoon oil in heavy large skillet over medium-high heat. If broiling patties, brush rimmed baking sheet with 1 tablespoon oil and arrange patties on sheet.
Broil (or cover patties in skillet and cook in batches) until cooked through, pressing patties down lightly with spatula before turning over, about 3 minutes per side (or 4 minutes per side if cooking in skillet).
Place patties on bottom halves of rolls.
Top each patty with sauce.
Cover with roll tops.
Place 3 sliders on each of 4 plates and serve.