KateL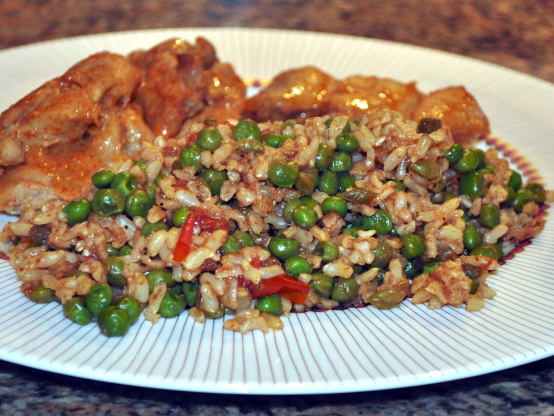 Brown rice is substituted for the more typically used basmati rice in this classic dish from southwestern India.

Top Review by KateL
Easy, tasty, somewhat spicy, but not fiery. Made brown rice the day before after soaking for 2 hours, then used chicken broth in a rice cooker, so today it was a piece of cake to make this recipe. I love that this makes a huge pot of vegetable rice, I'm freezing my leftovers. Made for The Wild Bunch of ZWT8 for its trip to India.
Heat oil in a large nonstick skillet over medium heat. Add onions and garlic.
Sprinkle with coriander, cumin, clobes, cinnamon, and jalapeno.
Cook, stirring frequently, 5 minutes.
Add peas, tomatoes, salt and pepper. Mix well so that spices are evenly distributed. Cover and cook 5 minutes.
Add rice. Cook, stirring constanly, until mixture is well blended and rice is hot.
Top each serving with chopped fresh cilantro, if desired.