Bombay Blue Sapphire Martini- Sunday Mart Marts
Bergy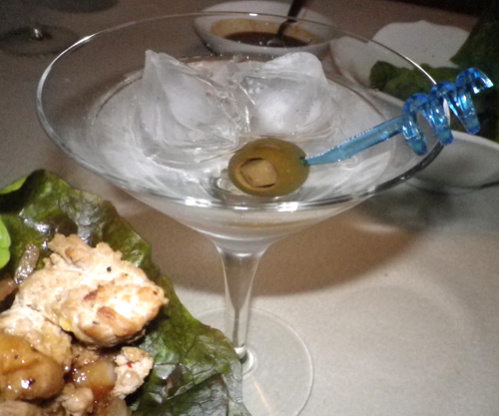 The secret to a suburb martini is to take the gin right out of the freezer, have the glasses iced, and have a jumbo olive stuffed with what you like, I like a jalapeno stuffed olive or try a lemon stuffed olive MMm or a large English pickled onion (I think that makes it a Gibson). Sacrilege I put in 2 ice cubes just so it isn't too decadent.

My all-time favorite gin is Bombay Saphire and this is my favorite martini recipe! :) Thanks, Bergy, for posting a classic cocktail recipe that transports me to a posh and elegant place beyond the hoi polloi!
3

ounces ice cold bombay blue sapphire gin (Store your gin in the freezer)
1⁄4 ounce martini dry vermouth

1

large stuffed olives, of your choice or 1 large pickled onion

2

ice cubes
Also required: 1 iced large martini glass Pour your Vermouth& Gin into a cruet and place it in the freezer, do not shake or stir just pour them together, I do this early in the day but your cruet must have a stopper in the top- see picture.
When you are ready to serve place 2 ice cubes in the glass and the Olive.
Pour in the martini, and enjoy.
I recommend that your serve an appetizer with the mart mart and don't get greedy- one is really enough.
Repeat for as many servings as you want to make.