JustJanS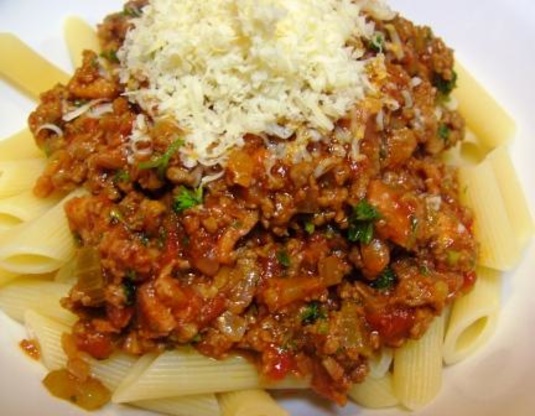 This recipe is from Stephanie Alexander's, "The Cooks Companion"

I actually own the cookbook this came from but have never made it before. We enjoyed it a lot thanks Jarrah. It was quick and easy to get on and cooking. I omitted the flour (I don't like flour thickened sauces) and just reduced it until I was happy with the consistency. I would have liked some basil and oregano in it along with the thyme and couldn't resist throwing in some chopped parsley at the end.
Saute onion, celery and garlic in oil in a large saucepan until softened.
Add minced meat and pancetta and fry until meat breaks up into small lumps.
Sprinkle in flour, then stir well.
Add wine, salt, pepper and nutmeg.
Mix well, then increase heat and boil to evaporate liquid.
Add stock, tomato, tomato paste and herbs.
Reduce heat again and simmer for 1 hour, stirring from time to time.
Taste for seasoning.