Bolognese Made by a Polish Girl !
Rita1652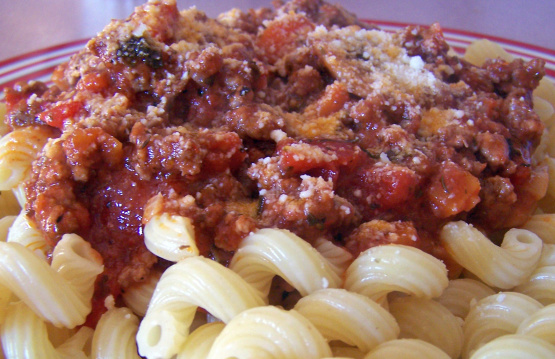 This sauce can be divided into single servings, frozen for future use. When reheating go ahead and add some VODKA and cream for a great vodka meat sauce (here's the Polish part)! I made this with only 1 tablespoon Olive oil and lean meats trying to keep the fat down and didn't lose anything in taste! Delicious in a meat lasagne or a baked ziti dish. Top a pizza or go a whole different way and place in a pie dish and top with mashed potatoes for a Italian shepherds pie! Now that's South meets East meets Western Europe! ;) Enjoy!

This is really a great bolognese sauce, I did make a few changes though, I used all ground beef and omitted the celery, I used 3 tablespoons fresh minced garlic and 1 tablespoon dryed chili flaked and added in one jalapeno pepper. I am serving this sauce within the next couple of days so I will refrigerate until serving to blend the flavors even more, thanks for sharing this great recipe Rita!...Kitten:)
In a large heavy bottom pot on medium heat, heat up the olive oil, add the garlic, onion, pepper, carrot, celery, and mushrooms cook allowing them to soften about 5 minutes.
Add Chianti and simmer for 5 minutes.
Add 1/2 the parsley, meats, mix everything together breaking up and cook over a gentle flame until the meat has changed color.
Add Worcestershire sauce, Italian seasonings, red pepper flakes, basil, tomato puree, diced tomatoes, and paste.
SIMMER gently for half an hour and season to taste with salt and black pepper. Be sure to stir not to burn this rich thick sauce.
If the mixture is dry add a little more olive oil, some vodka, or tomato puree. Serve over pasta, topped with parmesan cheese and remaining fresh parsley to garnish.