Bolo De Cenoura-Brazilian Carrot Cake
sam700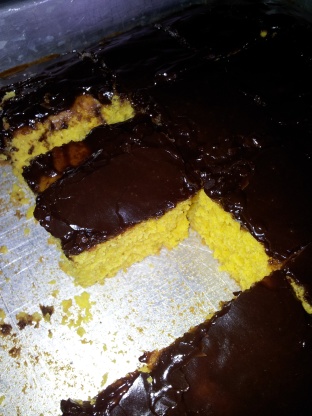 This is very different from an American carrot cake, but I prefer it. It is very easy and always surprises people. A great everyday cake.

Thank you for posting this recipe. It's delicious and so easy to make.The cake turned out to be very smooth. The chocolate glaze is easy to make as well and taste so good, I used Hersheys cocoa powder non sweetened.
This recipe is a keeper.
Preheat the oven to 375.
In a blender combine eggs, sugar, oil, and carrots. Blend on high until all is combined and is a pureed mixture.
Combine the blended mixture with the flour in a bowl. Mix in the baking powder.
Pour batter into a cake pan and bake for about 30 minutes, or until a toothpick comes out dry.
Meanwhile make the Chocolate Glaze.
Combine all ingredients in a saucepan and cook over medium heat until it begins to boil, stirring constantly. It should be thick enough to coat the back of a spoon.
When the cake is done let it cool. Once it is cool to touch, pour the chocolate glaze over it and let it harden a bit.
Serve and enjoy.