3 Reviews
This is a very satisfying soup. My family loved it. The shredded potatoes together with the corn give a nice texture. The lime gives a wonderful twist to the flavors of the chiles and spices. I will make this one again.
Great tasting soup! Not the prettiest, though, unless it's decorated right. We used less oil, fat-free half-and-half and vegetable broth instead of chicken. Also, instead of chipotle chiles in adobo (which we can't always find) we used chipotle seasoning. Serve with some bread and veggies to make a complete vegetarian meal. Thanks, dicentra! Wonderful!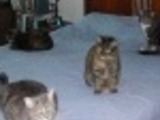 Fine,tasty soup. Easy to make. The lime was a great addition and the lime garnish made it quite attractive. I used vegetable broth instead of chicken and omitted most of the garlic. Also, I used fat free Half and Half which did not seem to detract from the flavor. It did lower the calories. A fine recipe.
Bolivian Corn Chowder