PanNan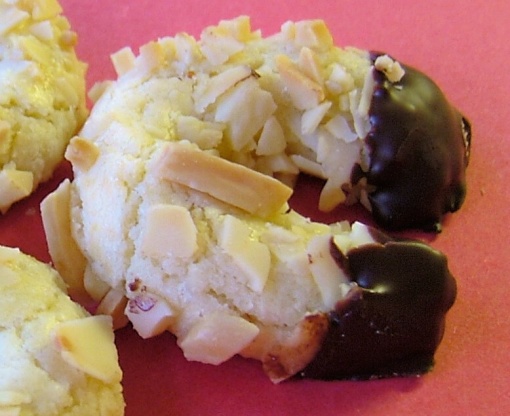 This is a traditional Dutch recipe. These are essentially Lady Fingers dipped in chocolate. My mom used to make these when I was little. I loved to watch her dip them in the chocolate.

Top Review by Tisme
I followed PanNan's advice and did not shape them (got a bit chicken!!)But had not trouble making these, unfortunately did not get to taste these as I was called away for a few days, but after a nod a wink and a thumbs up (no talking of course)from the 19 yr old son, I know he was impressed, and the rest of the family asked if I could make them again....all that work and not even a taste, but they got a thumbs up here!!!
1

cup butter
1⁄2 cup sugar

2

eggs, separated

2

teaspoons vanilla

2

teaspoons water

2

cups flour
1 1⁄4-1 1⁄2 cups almonds, chopped or 1 1⁄4-1 1⁄2 cups almonds, shaved

2 -3

ounces semi-sweet chocolate baking squares
Preheat oven to 350°F.
Cream butter and sugar together.
Add egg yolks and vanilla. Beat until smooth.
To egg whites in a shallow bowl, add water and beat with a fork.
Shape dough into 1 1/2 - 2-inch long fingers with stubby ends. My Mom used to make them into little horseshoe shapes after she shaped them into the fingers. It gave them a neat appearance.
Drop into egg whites.
Roll in nuts.
Bake for 14 - 16 minutes.
Cool.
While the cookies cool, melt the chocolate squares using whichever method you prefer. I usually use the microwave and stir every 15 seconds. You could melt it with a double boiler if you wish.
Dip ends in melted chocolate.
Set on waxed paper to allow chocolate to set up.