Bok Choy With Tomato and Cheese
Ambervim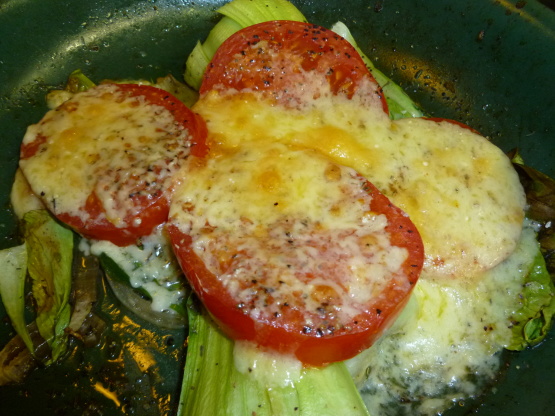 I created this after finding a great Oriental market with fabulous veggies. It is a very different way to eat Bok Choy!

I salted the olive oil before heating. I added the bok choy and sprinkled some jarred minced
garlic along with the thyme and black pepper and a little salt, then the tomatoes, shredded mild
cheddar and two round slices of provolone cheese. I cooked the bok choy and vegies about 6 minutes and then a minute under the broiler. It was a guessing game with the cheese since I used shredded cheese. Bok choy cooks very fast. This was delicious. I will prepare again but
sprinkle the bok choy with rice vinegar on the cut side and let set a few minutes so the flavor
penatrates. Thanks for posting.
Place the baby bok choy cut side down in a ceramic oven safe skillet (if no non stick ceramic, just put oil in your skillet first -- it must be oven safe) over a medium high heat.
Sprinkle spices on top.
Then top with tomatoes then cheese.
Turn on broiler.
Cook for a few minutes.
Move pan to broiler and leave until the cheese is well melted and just started to brown.
If this is your meal, eat 1 bok choy worth. If it is a side, serve 1 cut half per person.