Bok Choy With Ginger Vinaigrette
teresas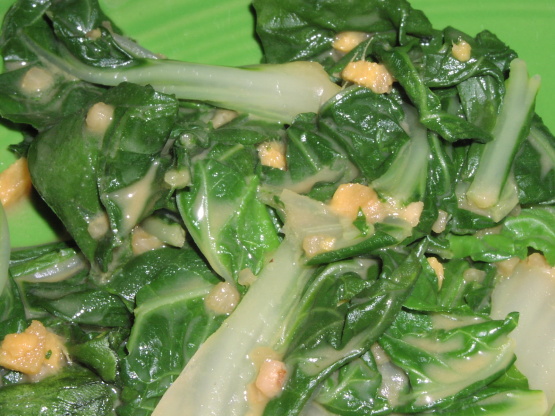 The flavor of this was much different than I had expected. You really taste the dijon mustard. I didn't chop up my bok choy just left it in whole leaves and poured the sauce over. I got this on the web and I have only had it warm, but it could be served as a cold side as well.

We enjoyed this....I did chop the bok choy before cooking and I stir-fried it, rather than steamed and only because it's easier for me to get my wok out of the cabinet. I just used the tiniest bit of vegetable oil and then the water left on the vegetable sort of steamed it anyway. The dressing is really nice; I can see having it on regular salad. Thanks for posting!
Separate bok choy leaves and rinse under cold water to clean. Place in steamer and steam until stalks begin to turn translucent and are soft when pierced.
Combine vinegar, mustard, soy, sugar, garlic, and mix well.
To serve warm: Chop up piece into bit size pieces while still warm and pour the ginger vinaigrette over.
To serve cold: Plunge steamed bok choy into cold water to crisp it back up. Drain and cool. Then chop and pour ginger vinaigrette over.