Bok Choy-Broccoli Stir-Fry

A quick little veggie stir-fry that I serve with grilled pork tenderloin.
Directions
Heat oil in a large skillet or wok over medium-high heat.
Add onion, ginger, garlic, salt, and red pepper flakes; stir-fry for 2 minutes.
Add in broccoli and bok choy; stir-fry for 1-2 minutes.
Add lemon juice and sugar; stir-fry 3 minutes or until crisp-tender.
Most Helpful
We liked it well enough. I used ground ginger instead of fresh and honey instead of sugar. I also tossed in some spinach Towards the end. Next time I think I would add some other spices to get a slightly more complex flavor.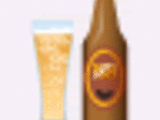 Sorry, my husband and I really did not enjoy this recipe. I feel like it was over-seasoned. The taste of the actual veggies was lost and all I could taste was lemon and ginger for the most part.
Oh my this was good. I had bok-choy left over in the fridge and needed something to use it up and was hoping for something my picky DGS would eat. This was perfect, he likes broccoli and if I'd used just bok-choy alone he wouldn't have even tried it. This went together fast and easy the flavors blended so well with the veggies looking so bright and pretty together and tasting crisp and fresh. I did add some red bell pepper just for added color and because I had it on hand and it was perfect.