Parsley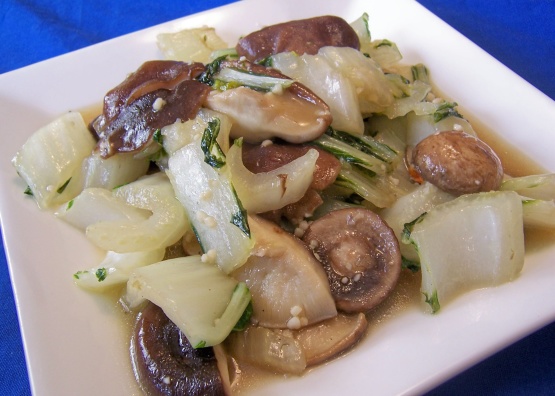 this is a quick side dish , courtesy of the NY Times.

Made this with "General Tso's Tofu" (vegan version)... substituted a tiny bit of soy sauce for the fish sauce. Came out really well. Next time, I'll double the recipe and use leftovers for a stirfry/fried rice.
Put wok or large skillet over maximum heat, and add oil.
When oil smokes, add garlic.
Stir once, and add the bok choy.
Cook for a minute or two until it just begins to brown.
Then stir, and add shiitakes and sugar.
Cook, stirring occasionally, a minute or two, and add the chicken stock and fish sauce.
Cook, stirring, until the bok choy is tender.
Add a bit more stock or water if necessary — the mixture should not dry out entirely.
Serve immediately.