Prep 10 mins
Cook 10 mins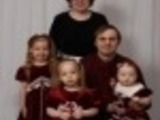 So yummy. So easy. So fast. Healthy, too! One of my mom's easy dinners. Bok choy is a leafy vegetable that tastes kind of like a cross between lettuce and cabbage, but also with a flavor of its own.
Directions
Wash bok choy very well.
Slice across the leaf at about 1/2 inch intervals.
Discard the bottom when you get to the part with no green on it.
Drain thoroughly.
Chop chicken breasts into 1/2 to 1 inch chunks.
Heat oil in a wok or large, high-sided frying pan with a lid over medium heat.
When oil is hot, add garlic.
Saute for a few seconds, then add chicken.
Saute until slightly browned all over (no pink showing on the outside).
Add bok choy and stir-fry for about half a minute, until just wilted.
Add soy sauce and sherry.
Cover and cook until chicken is done; about 10 to 15 minutes.
Serve over steamed white rice with soy sauce or teriyaki sauce.
Most Helpful
We got a bunch of Bok Choy with our CSA share and I had no idea what to do with it. Needed something simple and quick, and this fit the bill. Even the kids liked it. I did need to add more garlic though, but overall was a hit. :)
So quick and easy and tasty! I did add some red bell pepper to it too.
4/15/08 I was looking for a new way of using Bok Choy, which was simple, fast and tasty. This was definitly it. I disagree with Chris's review, this is a very tasty recipe and I will cook this again. The only slight suggestion I would make is to use Lite Soy Sauce. For health reasons as well as taste, the soy sauce was just a tad strong. Thank you for posting.