Debbwl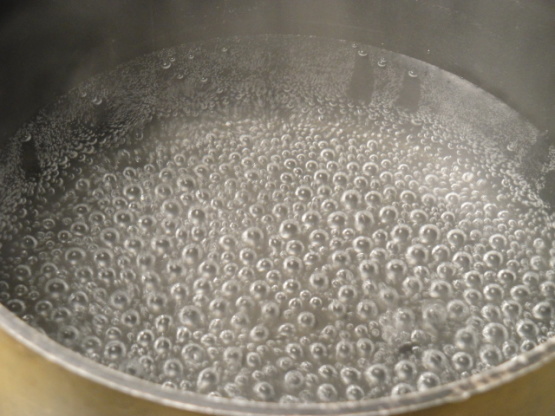 Just had to post this wonderful recipe. My brother always told me his wife couldn't boil water if her life depended on it. We came from a family where every female loved to cook. My poor baby brother married someone who had never cooked. Boy did he enjoy family dinners, lol...... Anyways, I wrote this recipe on a piece of paper for my SIL as a joke and recently her and my dearly departed brother's daughter, my niece, gave me the little piece of paper I wrote it on. In memory of my baby brother, here is my recipe for boiled water :)

Interesting, to say the least. Wasn't horrible, but is a bit better if you add some seasoning... I recommend salt, pepper, and a dash of garlic. To really bump up the texture, add some spaghetti noodles. Let the water and noodles boil for an additional 10 minutes (that's jusy enough time for the flavors to REALLY mesh!), then drain and serve with a meat and tomato sauce. FABULOUS!
2

cups water

1

cup ice cube
Place water in large enough pot to hold 3 cups without boiling over.
Add ice cubes.
Turn burner on high.
Do not watch pot or it will take forever.
Do not leave unatended or you will burn the house down.
Bring to a boil.
Remove pot from burner.
Turn burner off.
Use immediately or you will have to repeat recipe.