loof751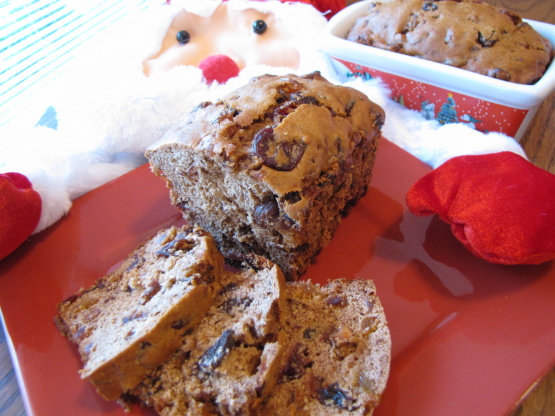 This recipe comes from my great grandma, maybe not exactly as she would have made it. Apparently my great granddad liked it fried in butter for breakfast. Up until now it has been a verbal recipe so my mother and I have put it down in "writing for prosterity. It's not a fancy fruit cake but something for everyday. I like this with a blue cheese.

This fruitcake is absolutely wonderful! So spicy and chock full of fruit. The dried fruit I used was a mixed variety of apples, apricots, raisins, plums and cherries. I made this in 4 ceramic mini-loaf pans; I checked it during baking and the cook time ended up being the same as you specified for a single cake. Great texture, great flavor - thanks for sharing a family recipe!
Place dried fruit, mixed peel, cherries, water, brandy, sugar and butter in pan.
Heat gently, bring the boil and simmer for 5 minutes.
Take of heat and add the bicarb soda, stirring through, mixture will foam up a bit. Leave until cold.
Sift flours and spices.
Mix the eggs through the fruit mixture, then combine with dry ingredient.
Pour into a lined 18cm square cake pan or 18cm round cake pan.
Wet your hand and flatten top of cake.
Bake at 150C for 1 hour.
Cool in pan covered with a tea towel.