JustJanS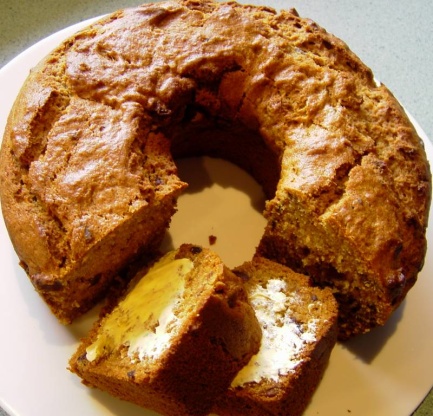 A very simple cake, with very few ingredients, and quick clean up. Just my sort of baking. It's not too sweet either.

A simple and moist cake, I served this with honey butter for morning tea at work and it was devoured! I loved that it took little time and equipment to make. It did rise quite high above the pan but there was no trouble removing it after it had cooled in the pan. I will make again- no photos, eaten too quickly! Next time!
Combine butter, milk, sugar, dates and spices in a pan, stir over heat until butter is melted, bring to boil, remove from heat, stir in soda, stand 5 minutes.
Stir in lightly beaten eggs and sifted flour in two lots, mix well.
Pour mixture (it will be quite thick) into a well greased 20cm ring tin, bake in a moderate oven for 40 minutes.
Turn onto a wire rack to cool.
Serve buttered.