Boiled Chocolate Cherry Cake
Um Safia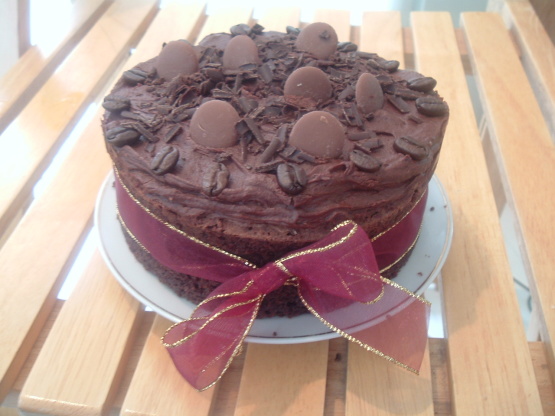 This is a beautiful moist cake from a John West recipe brochure

This needs more chocolate in the cake. When I next make it I'll include chopped dark chocolate and extra cocoa. I made up for the lack of chocolate by covering it with a thick ganache topped with chocolate curls and I didn't use the mixed dried fruit;I used my own mix of golden raisins/sultanas, chopped dried figs, apples and apricots.
Put cherries and juice,butter,sugar,dried fruit and cinnamon in large pot.
Simmer together for 10 minutes.
Allow to cool.
Add remaining ingredients and mix well.
Line a 20cm cake tin well with baking paper.
Bake at 165 degrees celsius.
Bake for 1 1/2 hours or till cooked.
Cool in tin.