Ninna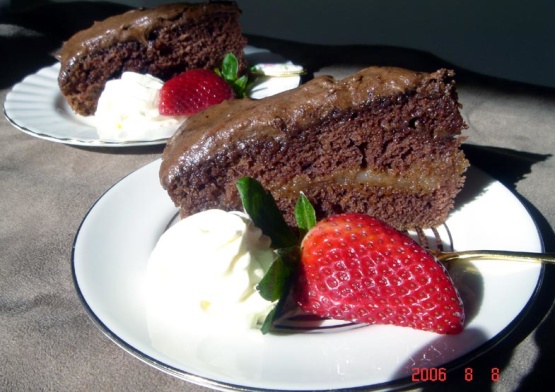 I first made this cake when I was at school, it is still my favourite chocolate cake recipe. Makes a beautiful moist cake. Prep time is a guess.

Top Review by Ninna
This is a great cake Marli. I have this recipe too, but mine is double quantity and I cook in a 8" square pan. I got it from the Woman's Day, prize recipe 30 or more years ago. Thanks for posting it Marli. Update: I just wanted to explain the photo Marli, I cut it in halves and spread lemon curd in between layers - gee it was good.
Preheat oven to 180 degrees c.
Place sugar, water, butter, bicarb soda& cocoa in a saucepan& bring to the boil.
Once boiling, time for 2 minutes, then remove from heat.
Grease& line base of a loaf pan.
Once chocolate mixture has cooled, add the flour& egg.
Mix well until smooth.
Place in pan& cook in oven for 35 minutes.