Boeuf Bourguignon in Slow Time.
KateL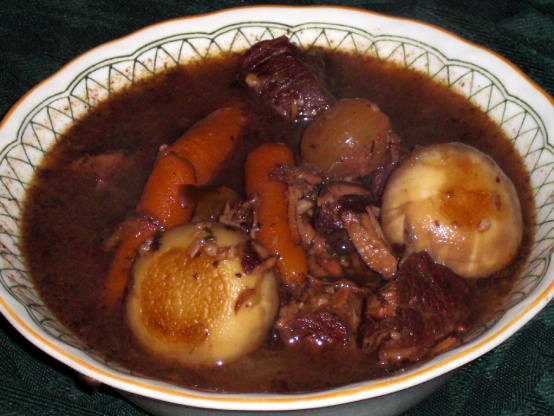 French hearty dish; you will bring France to your home.This is a recipe from my sister in law Rachel that I tweaked a bit and converted to the slow cooker. Serve with mashed potatoes. I don't kow what Julia would say about this version' but I know it is good.

A great rendition of Boeuf Bourguignon! A few changes...took the carrots out and the beef broth, using just a whole bottle of wine for liquid. Use a dry'ish red wine if doing it this way, since the heavier wines can still have pretty strong smell and taste if you are only cooking for the 6 hours. I've cooked this 4-5 times, and I found that 10-12 hours was better than the shorter amount. The meat is more tender and there's no apparent decrease in the other great flavors. Usually pair this with brussels sprouts and garlic or parmesan mashed potatoes. I use stew meat that is already cut up in chunks at the supermarket - usually lovely quality meat and less expensive.
3

lbs round steaks, cut in cubes

3

tablespoons vegetable oil

2

cups white pearl onions

2

tablespoons flour
1⁄4 teaspoon pepper

4

garlic cloves, crushed
1⁄4 teaspoon thyme
1⁄2 teaspoon herbes de provence
1 1⁄2 cups red wine

2

cups beef bouillon

3

cups baby carrots

2

cups mushroom caps

1

teaspoon butter, for mushroom

2

tablespoons chopped parsley
Heat oil in large saucepan and brown beef a small quantity at a time; spoon into slow cooker.
Brown pearl onions; set aside.
Sprinkle flour in hot fat to make a roux; season with pepper. Add garlic,bay leaves, thyme, Herbes de Provence.
Add 1/2 cup wine to roux;simmer to thicken. Pour in slow cooker.
Add the remaining wine and just enough bouillon to barely cover the meat.
Cover and cook in slow cooker on Low for 6 hours.
Add carrots and pearl onions; continue cooking another hour and 1/2.
Melt butter in saucepan and sauté mushroom caps. Set aside.
Just before serving, remove bay leaves. Add sautéed mushroom caps and sprinkle with chopped parsley.