Boerewors - South African Sausage

This is a must on every barbecue whether it be coal, gas or electric! When I have not been able to get the skins to produce sausages, I have shaped this mixture into patties and have served it in burger form - something my American family and friends have raved over!
Directions
Mix everything very well together.
Stuff casings if used or shape into patties for the best hamburgers in the world!
Barbecue or pan-fry 4 minutes on each side.
Most Helpful
Wonderful! Reminded me of home :)

Made this on the Friday, it was easy and tasted just like it should. Also had some more on Sunday and it tasted even better! Thanks we've been made loads of boerewors in the past few months and this one is the best so far.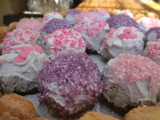 I have been meaning to review this recipe for a while now - and finally I am doing this - firstly thank you so much for this lovely recipe - it's totally awesome - the flavours are combined with just the right spices - the smell is out of the world (brings back sooo many memories) - now then, the stuffing of the casings is another story - but after many tries have got it down to pat !! Thank you 5 thumbs up !!