Rita1652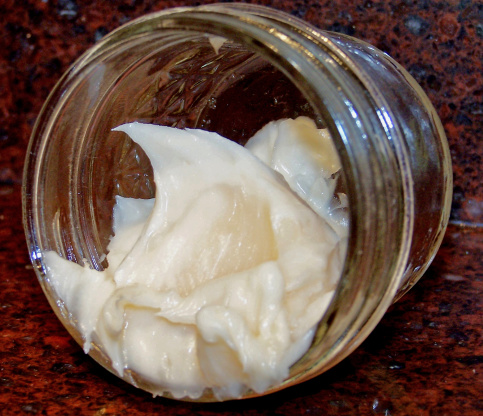 This is a light,tropical and luscious body butter that smells almost good enough to eat! I wouldn't however!!! I received this recipe in a monthy e-newsletter I receive from Nature's Gift. It is a wonderful small company in TN which specializes in essential oils and aromatherapy supplies. I love applying this butter right after I get out of the shower since it literally melts into your skin and leaves you soft and silky. It is wonderful in the winter but you may find it a little heavy in the warmer months. I remedy this situation by applying the butter sparingly after showering while my body is still damp... the water combines with the oils in the butter and helps emulsify it...right into your skin. I love the light, tropical scent from the coconut oil and cocoa butter... the essential oils are optional, but I think you will find them heavenly! I have a special bowl and beaters I use just for this recipe... just so I don't use them for anything else. Be sure to store this butter in a cool place since it will melt and turn into a soupy mess!

I made 1 ounce of this because the cost would have be a lot. 1/2 ounce of cocoa butter is $4. Just for the cocoa butter it would have been $32.00. I used Almond oil in place of the coconut. I had to add essential oils and my mix was Ylang Ylang and patchouli oils. I must say I loved this and I kinda wish I made the whole thing. Heavenly and silky smooth! To quicken the process I melted in the microwave oven. Then placed in a metal bowl over a bowl of ice the mix into a fabulous creamy lotion!
4

ounces cocoa butter, scented (deodorized)

6

ounces virgin coconut oil

1

teaspoon cornstarch

5 -7

ml mandarin essential oils (cold pressed) (optional)
Grate or shave the cocoa butter to help it melt faster and more evenly.
Melt the cocoa butter slowly on low heat or in a double boiler.
Once the cocoa butter is melted, remove from heat and allow to cool slightly.
Stir in the virgin coconut oil. (The heat from the cocoa butter will melt the coconut oil.).
Once the mixture starts to solidify, whip it with an electric hand mixer.
While beating, sift the cornstarch over the mixture.
Continue to beat.
Add in the essential oils if desired.
Continue to beat until light, fluffy and cool.
This can range from 5 minutes up to 15 minutes depending on how warm your mixture is to begin with and the ambient room temperature.
Package in pretty 4 oz plastic jars or plastic bail jars.