Parsley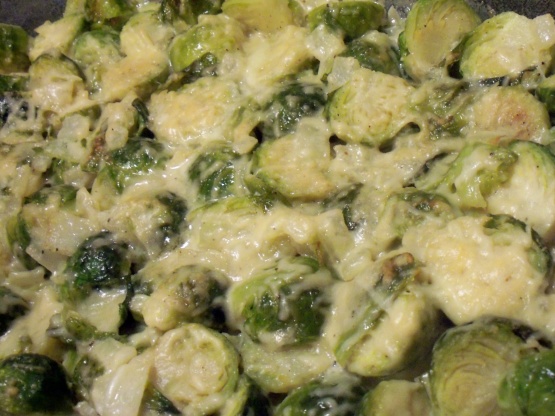 I love plain steamed brussel sprouts, but when you want something a little fancier, try these.
Preheat oven to 350*.
Lightly grease a 1 quart baking dish.
In a med skillet melt the butter and saute the garlic and onion over med heat for 3 minutes until soft .Add the brussel sprouts and cook for a furthur 5 minutes.
Add chicken broth and bring to boil, cook for 4 mins until the broth is nearly evaporated.
Add cream and nutmeg, cook for 4 mins until the mixture begins to thicken.
Transfer to prepared baking dish.
Stir in half the cheese and season with salt and pepper.
Sprinkle with remaining cheese.
Bake uncovered for 20 mins or until brussel sprouts are tender.