Bocconcini and Tomato Salad
ImPat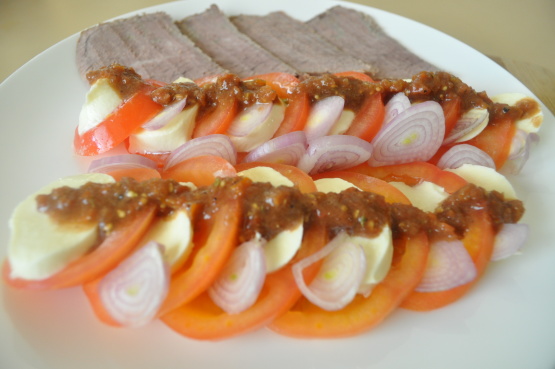 Bocconcini are the smaller fresh mozarrella cheese sold in brine. They are much tenderer and worth the exttra money. This is a nice variation of the usual salad.

Top Review by ImPat
I made up the dressing using cherry tomatoes and added a little salt and thought the taste was o'kay but once added to the sliced tomatoes and bocconcini is was WOW, the flavours just all came together and were so delicious. I used 2 small medium tomatoes as I had it for a side with some sliced roast beef for lunch, thank you Jan, made for Make My Recipe - Edition 15.
To prepare the dressing, place tomato in a blender or food processor fitted with the metal blade and process to a textured pure. Add remaining ingredients and pulse to just combine.
Arrange the tomato and cheese slices in alternate layers on 4 small plates. Spoon the dressing over and serve immediately.