Boca Breakfast Sandwich (meatless egg mcmuffin)
GaylaJ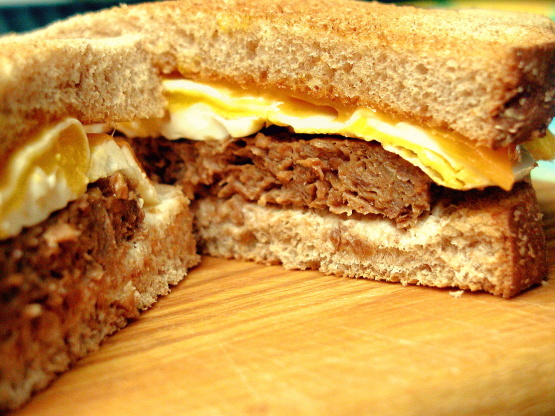 I love McDonald's Sausage McMuffin, but this healthy creation is just as tasty (Boca burgers are scrumptious with the right fixings!).

An actual egg mcmuffin from McDonald's (with egg and cheese) is 450 calories and has 27 grams of fat. This doesn't seem like a much healthier choice...though a Boca burger has got to be healthier than McDonald's sausage!
Toast bread.
Heat Smart Balance or oil in non-stick pan on medium high.
Meanwhile, microwave Boca burger in package (just open it on one side) for 2 minutes.
When pan is hot, crack egg into it and break yolk with edge of shell.
Sprinkle egg with salt and pepper.
Turn egg over with plastic spatula when ready (usually about 30-45 secs).
Cook until yolk reaches desired consistency (I like it a little gooey but mostly firm).
While egg is cooking, spread mayo on one side of toast and put Boca burger on top.
Put cheese on other piece of toast.
When egg is done, put put it on top of cheese (if cheese doesn't melt, put the whole thing in the microwave for about 10 seconds).
Put sandwich together and eat before it gets cold!
Optional: add some hot sauce for extra kick.