Bob's Red Mill Wheat Biscuits
Sue Lau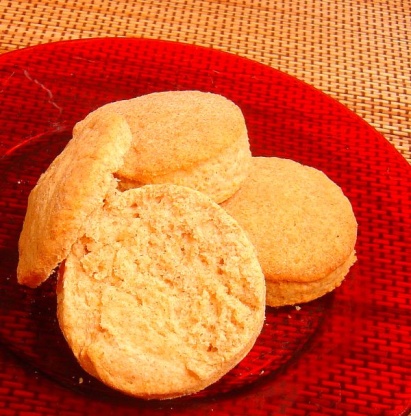 From the Bob's Red Mill Baking Book; recipe by John Ettinger of Portland Oregon.

I love this recpe! I buy all of my flour from Bob's Red Mill and I have had these biscuits at the cafe in Milwaulkie, Or. These are so delicious and healthful (compared to reg biscuits). Delicious!!
Preheat oven to 425°F.
Sift together flours, sugar, baking powder, baking soda, and salt.
Using your fingers, rub cubes of cold butter into the flour until it resembles coarse crumbs.
Add buttermilk and stir until moistened, then knead a few times, just enough to make the dough come together.
Drop about 1/4 cup dough onto parchment paper and flatten slightly, or you may choose to roll about half inch thick and cut them, placing them on a parchment paper lined baking sheet.
Bake for about 12 minutes, or until tops are golden brown and a toothpick comes out clean.