Peter J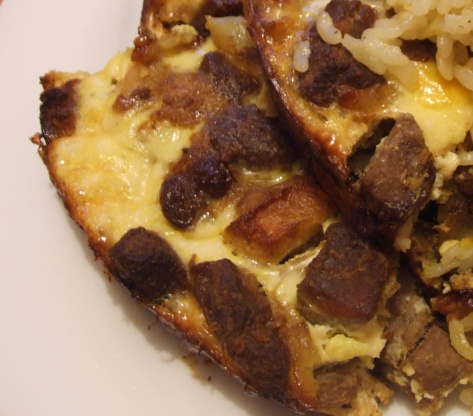 Recipe found on the internet.

Top Review by Gerry
Excellent - so different from our prairie 'beef pie' recipes - yet so good! I was hesitant on the bay leaves using only two small ones - other then that made as posted -was perfect for our tastes - loved the curry powder and of course the raisins and almonds!
Melt the butter in a saucepan.
Add the onions and sauté for 5 minutes, then add the apple and cook for another minute.
Add the chopped beef and combine.
Squeeze out the excess milk from the bread slices, then tear up and add to pot.
Add the curry powder, raisins, almonds, lemon juice, egg, and turmeric, and stir well.
Place mixture in a greased 9 x 13" baking dish.
Place bay leaves vertically in the casserole.
Bake at 325 degrees F for 40 minutes, then remove from the oven.
Mix together the egg and milk, then pour it over the Bobotie. Bake for 15 more minutes. Remove bay leaves before serving.