PaulaG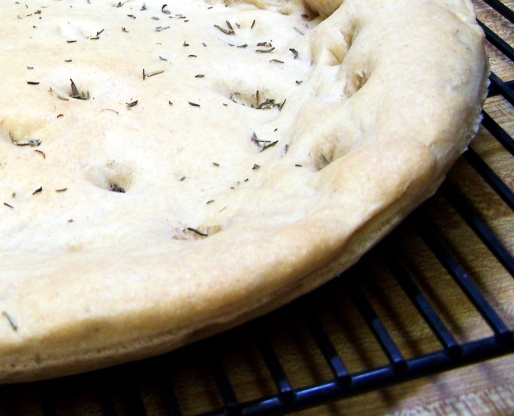 If you are a thin crust lover, then this is not for you, this recipe produces a thick, tender delicious crust. This is wonderful just brushed with olive oil then sprinkled with some kosher salt, garlic powder and the bit of shredded mozzeralla cheese on top and served warm just out of the oven with a plate of pasta, sooooo good! This recipe can be made either by hand or on your heavy-duty stand mixer, since there is a fair amount of dough to work with I stronly suggest to make this your stand mixer. For quicker rising use 1 tablespoon dry yeast.

I wanted to update my previous post in regards to the freezing of the dough before baking it. It worked great. I thawed the dough at room temp. Then pressed it in a pan and let it rise about an hour. This time I used the crust for taco pizza. Again, it was wonderful. Thanks.
In a bowl, dissolve the dry yeast in 1/4 cup warm water (105 F is a perfect temperature) with 1 teaspoon sugar; let sit for 5-7 minutes, or until foamy.
Add in the rest of the ingredients; mix well.
Turn out on board and knead for 10 minutes.
Place back in bowl, covered with a damp towel, and let rise for 34-40 minutes.
Divide dough into 3 parts, and place in 3 olive oil-coated pizza pie pans; dimple dough with fingers.
On top of dough, sprinkle a very small amount (approx 1/8 tsp each) of the following ingredients: Kosher salt, fresh ground black pepper, chopped rosemary OR thyme.
Let dough rise 50-60 minutes.
Bake at 350 degrees for 25 minutes.
The baked crusts can be frozen and reheated at a later time.